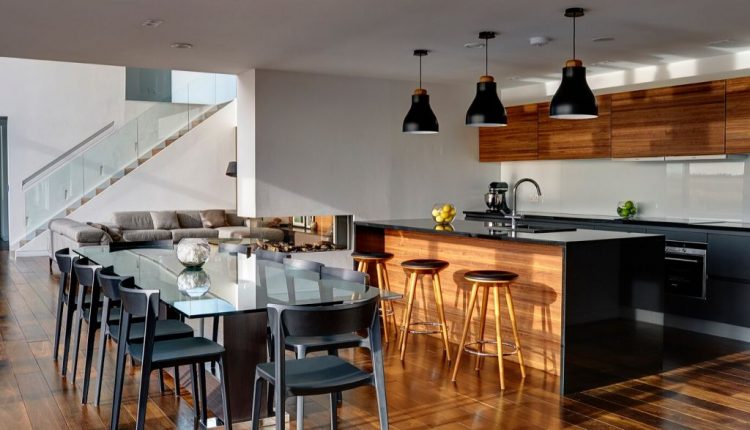 Photo credit: photographed by Pressfoto on Freepik.com
Schuller Kitchens UK and Studio Verve Architects
This amazing Real Kitchen is from Schuller Kitchens UK and client Studio Verve Architects whom are a London-based design-led practice founded by Vivian Chan.
Specialising in architecture and interior design Studio Verve designer the stunning Narrow Lane Farmhouse project in Ormskirk, West Lancashire that quite rightly has become an award winning project that Schuller Kitchens UK were proud to be part of in respect of the kitchen they designed (shown).
The house, winner of the West Lancashire Design Awards for Residential and Sustainability is a very contemporary farmhouse with a spectacular indoor swimming pool and is set in four acres of corn fields and the perfect partner for the architects design was a german kitchen using Schuller Next Line Lava Black with F695 Walnut and black quartz worktop.
As the saying goes, a picture says a thousand words and with such stunning photos from Studio Verve Architects, what more can be said of this fabulous project…
MD Shane Swift of Schuller Kitchens UK said the following;
…the house is simply stunning and a testament to the fantastic work Studio Verve produce and whilst our Schuller and Next 125 kitchens are at home in such luxurious setting as Narrow Lane Farmhouse, with its impressive foot print, it is the versatility of the furniture that makes the brand accessible to home owners, developers and architects alike, its appeal is universal.
Something else? Try Schuller Elba K023 Concrete Quartz
Prev
1 of 6
Next
Industrial Chic
Some say it is easy to work with such a large footprint for home interiors and kitchens but the reality is that when you have a big open space you need the right furniture and the perfect design so that the kitchen looks part of the house and in this example the designers and architects have worked in what would appear to be a great partnership so that the character of the house is evident and the kitchen feels part of a theme, rather than a standalone piece of furniture.